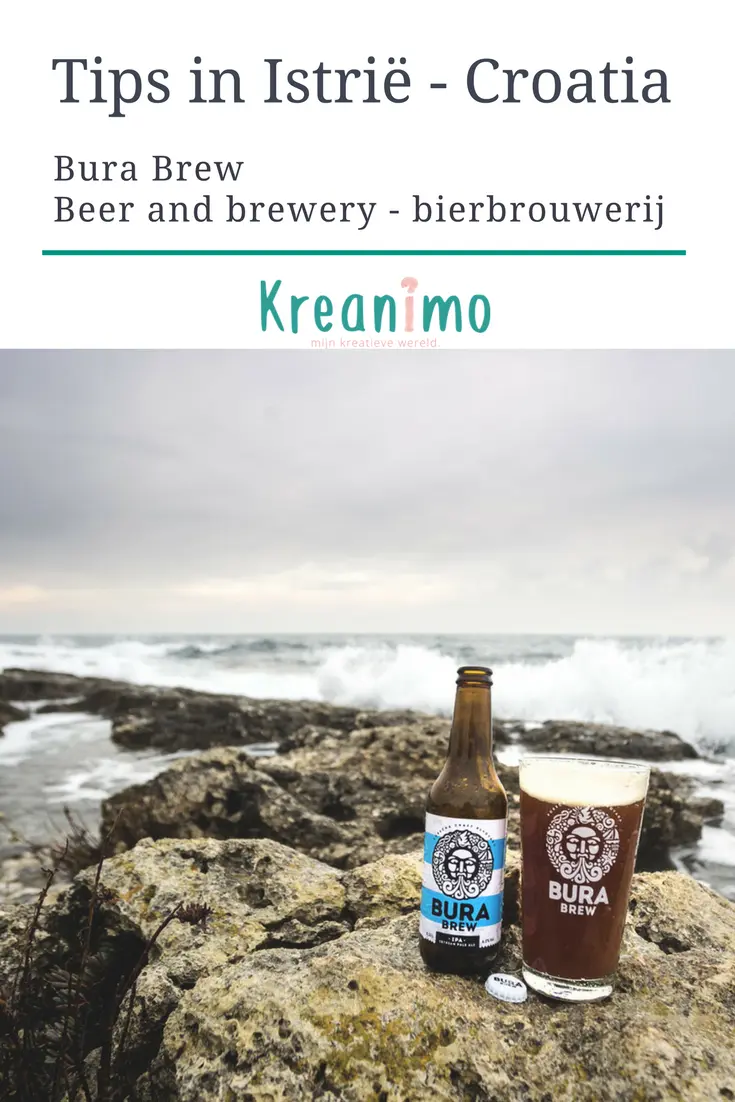 Brewery Bura Brew in Porec: Tip in Porec, Istria, Croatia
Brewery Bura Brew in Porec: Tip in Porec, Istria, Croatia
My husband is a true Belgian beerlover. There is no doubt about that! When we were in Macau we spent a Sunday afternoon tasting beer at the so called Beer Temple. The kids were playing video games and the local pizza place delivered over there … It was a fun afternoon tasting and laughing with the colleagues over there.
In Croatia, as always, when we're on holiday, he tried to taste some local beers. Sitting on a sunny terrace in Porec he ordered one. Looking at the label on the bottle and using Google he found out that brewery Bura Brew was right in the same village that we were staying at. Driving back to the campsite, we took a little detour and that's how we arrived at the little Croatian brewery Bura Brew on one sunny afternoon on holiday.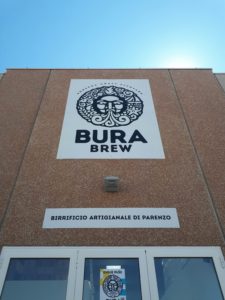 Visit brewery Bura Brew
My husband really wanted to go over there when he had found out that the brewery was so close to our campsite. The GPS sent us to an industrial part of town and there we found the brewery and we ringed their bell.
A nice lady opened the door and welcomed us in good English. My husband explained he had tasted their beer just a few hours ago and and really wanted to visit because we were staying in Porec and the brewery was right there.
We got a little tour and Veronika (the lady) explained about 'their' brewery Bura Brew and their team. The Brewmaster is Claudio. Allesandro, Viktoria's partner, is the co-founder and he is the sales and marketing guy. Veronika is the one who does all the paperwork and handles all that has to do with money.
At that moment they had three beers for sale in bottles at their brewery. There was a fourth one (the green one) that wasn't for sale in a bottle yet, but some bars had it already as a draught beer!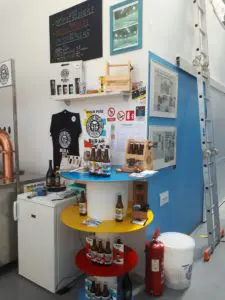 At the brewery there were two big fermenters of 1000 liters and 3 little ones of 500 liters when we were there. Veronika said they could brew 1000 liters a day. 500 liters in the morning and 500 in the afternoon.
When I told her we were Belgians she said that we must have seen so much bigger breweries… "Ours is so small!"
Every bottle has been through their hands and is closes with a little machine!
The one with the hint of Belgium.
They have had a limited editions with Belgian yeast. It's the bottle on the picture, left of the black T-shirt. The beer sold out! I think it must have been a great beer if it sold out, right?!
So what beer can we buy at brewery Bura Brew?
These are the beers we tasted – my husband gives you some more info:
Opitimist Golden Ale – Yellow label: light beer with a hint of hop in the aftertaste.
Redsand Amber Ale – Red label – Irish Ale: a more malty taste with a sweeter aftertaste
Tornado IPA – Istrian Pale Ale – Blue label: IPA with Istrian hop: Very hoppy and light bitter aftertaste.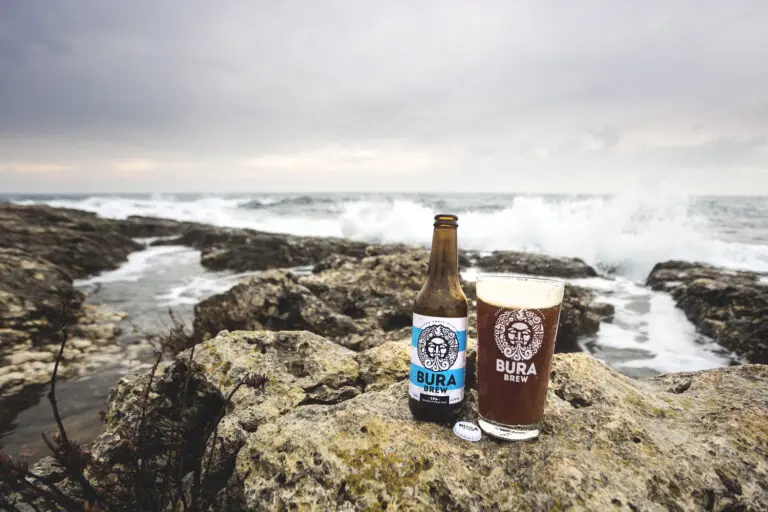 Why brewery Bura Brew is called BURA?
Bura is the tropical wind that's typical of the Adriatic sea. The brewers want to link their beer to that wind: cool and refreshing, but also to the sun and the sea.
We loved our little visit to brewery bura brew. We felt welcome! If you are a beer lover and you find yourself near or even in Porec on holiday, you really should visit the three brewers and taste their beer!
I'm really curious to see what this beer will achieve in the future!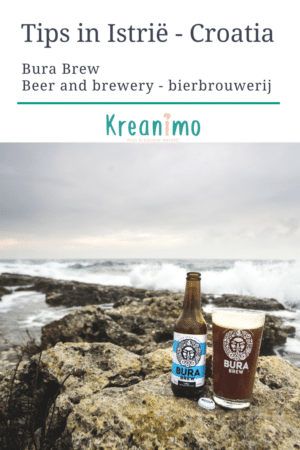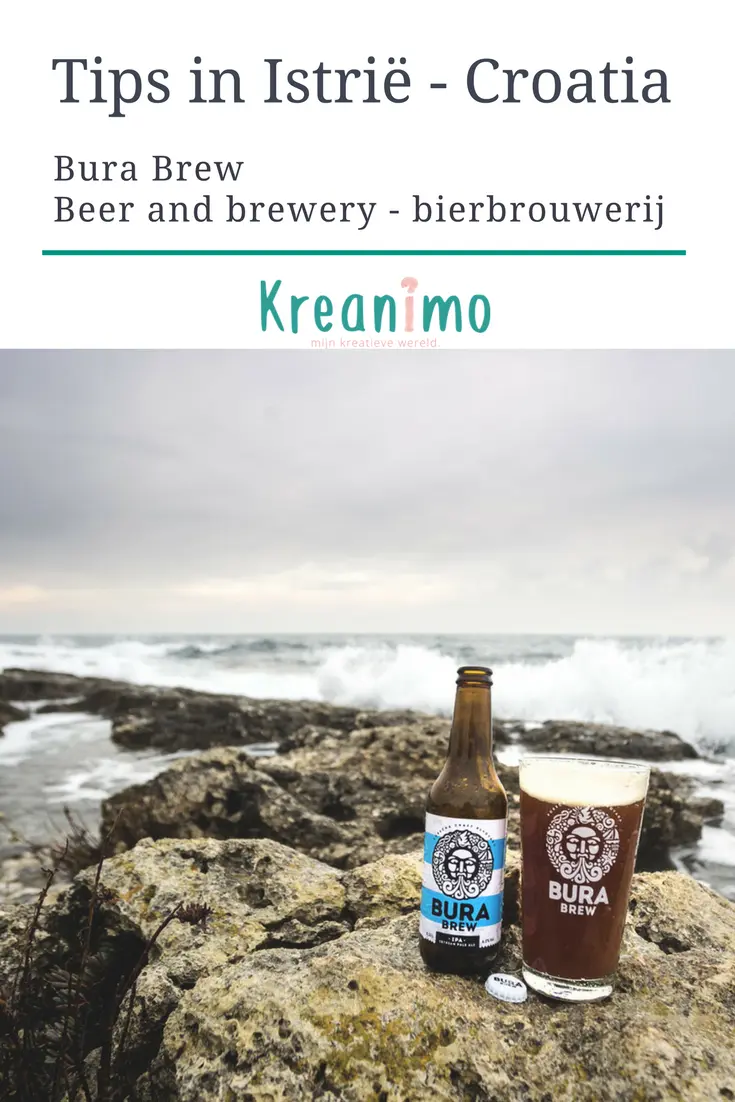 We went back to the brewery two times during our stay in Porec to get some more stock. One time for ourselves to drink at the campsite. One time just before we went back home. We really wanted to take some bottles back home for some people who really love beer…
At our second visit they were putting beer in bottles. Our son was very intersted in the little machine. There was the proof that every bottle goes through their own hands.
We really wish these young brewers all the luck and once again: if you are nearby and you love beer… make a stop over there!
Take care
Ilse